OUR HISTORY
Sandhi is a small-production winery sourcing Chardonnay and Pinot Noir from select vineyards in the Sta. Rita Hills AVA. After searching up and down the California coast, we settled on a narrow slice along Santa Rosa Road for the verve, balance and effortless Pacific breezes of these sites. It has been our belief that only together can we fully express them.
Sanskrit for collaboration, Sandhi is a meeting of minds, methods and meticulous practices in the vineyard and the cellar to explore unanswered questions and untapped terroirs. In the Santa Rita Hills we find a tremendous opportunity for all of the above. It was this place–tucked along the southern Central Coast of California, an hour's drive to any major city but only ten miles from the ocean–that captivated Rajat Parr as a young sommelier two decades ago.
Winemaking Philosophy
We consider it a great privilege to partner with historic and distinct sites in Sta. Rita Hills AVA. Covering just eight miles, the vines grow among a mix of marine sedimentary soils and oceanic winds that vary considerably from one plot to the next. It is our aim to translate only those particularities to the finished wine.
The vibrant, aromatic layers of Sta. Rita Hills Chardonnay that stopped Rajat in his tracks 20 years ago are no accident. Here, our growing season is defined by constant cool breezes, powerful sunshine and rocky soils, all of which come together to produce grapes of equal concentration and freshness. Fermenting them proves it–the levels of pH, alcohol and ripeness found at harvest uncommon to California–and shows quantitatively what makes this place so special.

In the winery, we rely on native yeast and make no additions or subtractions of any kind. Chardonnay is fermented and aged in large oak barrels for complexity and texture. Pinot Noir, more delicate in structure and aromatics, sees concrete tank fermentation before a shorter barrel aging.
Fascinated by the great vines and wines of Burgundy, Raj found inspiration in the energetic Chardonnays from Sanford & Benedict Vineyard put forth by producers like Au Bon Climat and The Ojai Vineyard. Then-wine director for Mina Group, the San Francisco-based, award-winning restaurant group, these were some of the only California Chardonnays to make his wine lists. Not to mention these were Chardonnays from what was then, and still is, an area heralded for Pinot Noir.
In 2004 two events in Raj's life laid the groundwork for Sandhi. He met Sashi Moorman–who coincidentally lent a hand to those Ojai Vineyard wines–and decided to make some of his own. Raj quickly realized a cool climate and marine soils in the southern Santa Rita Hills were responsible for the zing and complexity embedded in Sanford & Benedict Chardonnay. Just as immediate was his connection with Sashi, an up-and-coming winemaker with deep knowledge of the area and a like mind for focused, expressive wines that elevate food and enhance conversation.
After bottling–what else–Sanford & Benedict Chardonnay in 2009, Sandhi took off with gusto the following vintage. For nearly 15 years we have followed two principles–purchase Chardonnay and Pinot Noir from responsibly-farmed vineyards, and vinify them all the same – to show the singular coastal beauty and nuance of each site.
Hundreds of hands play a role; from our growers to vineyard workers, our cellar team and winemaking mentors to our friends producing compelling wines around the world. These collaborations drive our passion for wines of place from a region like no other.
less is more
We believe less is more and prefer to emphasize the attributes of a place over the tools in a building. Our wines have always been grown and made in small quantities to maximize quality and transparency at every step.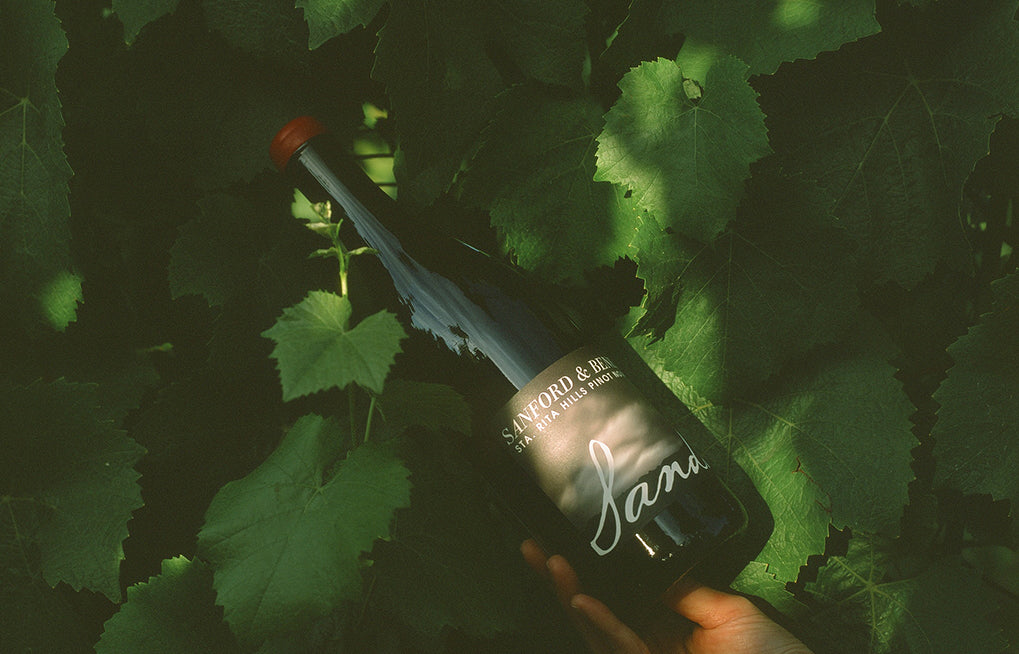 Join the club
Members enjoy savings on shipping, first access to special releases, large format bottlings and special events.​
Wines of Balance
Sandhi is a meeting of minds, methods and meticulous practices in the vineyard and the cellar to explore unanswered questions.